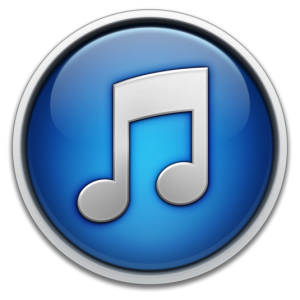 Podcast: Play in new window | Download
Subscribe: RSS

Transcription:
(Prefer to read? Here is the transcription. Please excuse any typos.)
Now yesterday I had what is colloquially known as a 'flash of the blinding obvious'. I was at an event where I was doing some sales and marketing training and someone actually said to me "Denise, can you just explain what is content marketing and why should we be doing it." So I thought "Well, that's a really good question." And if one person is asking that question, it often means that lots of other people would like an answer to that question.
Even though it might appear very trendy to assume that everybody knows what content marketing is, you know I suspect that there are a number of people that would like a little bit of clarification on this particular subject. So that's what today's podcast is all about.
So Hi there everyone! This is Denise from Super Fast Recruitment with a Recruitment Marketing Podcast and today's topic is all about content marketing, exactly what is it – that's the main focus of today's podcast. We're going to talk about how you can use it in addition later on in this week so it's nice and short content for you to consume.
So as always you can download this podcast at superfastrecruitment.co.uk/blog and then just have a look on the podcast page in the categories you'll find it there and there will be a transcription for you.
So content marketing – Well, yesterday… one thing that I do as well as obviously working with recruitment company business owners is I also love to teach sales and marketing and that was what I was doing yesterday with a totally unrelated sector to recruitment.
And there was someone in the audience and it was fantastic because she just said "Could you explain what exactly is content marketing?" Because I got it on my little PowerPoint slide and I was just about to go into it and I thought "You know what? Many people that I come across probably wouldn't ask me that question even though they know that they need to do it but they really have no idea about what it's based on and what it's going to involve for them."
So let's just give you a nice definition of exactly what is content marketing and why it would actually be something that we might all want to put some resource into this year.
So content marketing then is basically any marketing format that involves the creation and sharing of content, knowledge, information, media to acquire new customers. That is basically it. People go online looking for information about various things. They are looking for solutions, they are asking questions and if you can have your content in front of them you're going to catch their attention and probably pull them over to your website as opposed to another website.
So you know, that is basically it. And what would it involve? Well, you could be looking at news items, videos, you are listening to this podcast, it could be a white paper, it could be a digital e-book, it could be an infographic, it might be case studies, how-to guides, you know, question-and-answer articles, blog posts, photographs, images, whatever that might be, it's the content that you might need at any point in time. And as you consume that content, then you might have a different relationship with the person who has created that content for you.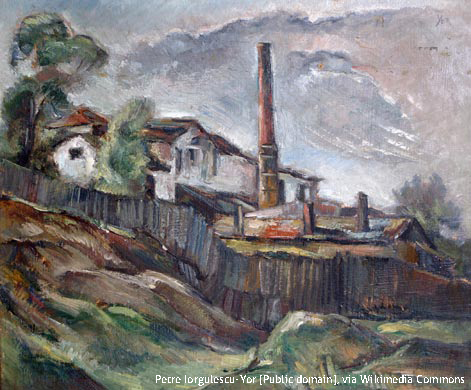 So what is this thing about that people crave information? Well a bit of a modern history lesson for you which you will all remember I'm sure from your school days and you'll remember the industrial age, the one we are all in school and we learned about the industrial age and how societies were formed and how, you know, the tribal philosophy was created and we worked in factories, we worked…
Industry was really important to us and then things started to change. And then what happened as the industrial age moved away from being the presence and dominance that it was, then we moved into the knowledge age. And that was where it was all about ideas and know-how and that was main source then of economic growth.
Then we moved into the information age which is really where we still are at the moment. If you google it online to find out the answer to the question then invariably people talk about the information age started around about the 1970s and has obviously been fuelled by the advent of the internet and being able to surf online for information.
So we are now in that state where we are in the information age. Now many people that listen to this podcast are from the UK and you will often head over to Google. It is our favourite search engine in the UK and typing questions. And Google is appreciating this now so beforehand it always used to be about keywords and as someone that has been heavily involved in search engine optimisation and online marketing, yes I understand the implications of keywords.
However, Google now has its recent update with something called 'Hummingbird'. It's got this thing about animal names or well maybe that's just what we align it to and Hummingbird, Google's latest update is all about being able to work out from its search algorithm how people are searching and what is the information that they particularly want.
So it's like the longer the longer search strings… So you know, I was typing something into the computer the other night and how do I do XYZed in ABC format and I miraculously got the answer to my question because Google is being very intuitive in that. And then why would it want to do that? Well, it's because people crave information.
Everyone thinks the answer to everything is on that Google so they head on to Google and they start looking. And how does that relate then to us? Well, basically it relates to the fact that we're all really looking for experts and we want someone that's going to give us some help, that's going to give some information and we get sort of drawn into that.
One of my mentors online… I started following this particular individual because I started reading his content and you know, he produces some amazing content. And I got locked into it and I thought "I like this guy" and then something happened and it's one of the powers of influence, the influencing strategies that if any of you ever read Dr. Robert Cialdini's work which is the 'Psychology of Influence'. One of his strategies is something called reciprocity. And in the majority of cases we as human beings, if we get some information from someone else and somebody helps us there is that sort of innate drive to thank them in some way by doing them a good term.
So that is one of the fundamentals of content marketing. As we produce content, we then help to brand ourselves as an expert so that people will have a different opinion of us. It brands us as that thought leader in our particular market. Somebody that you can go to that's reliable, that's knowledgeable and that can help you and hey, maybe you might even then decide that this is the person that you want to work with.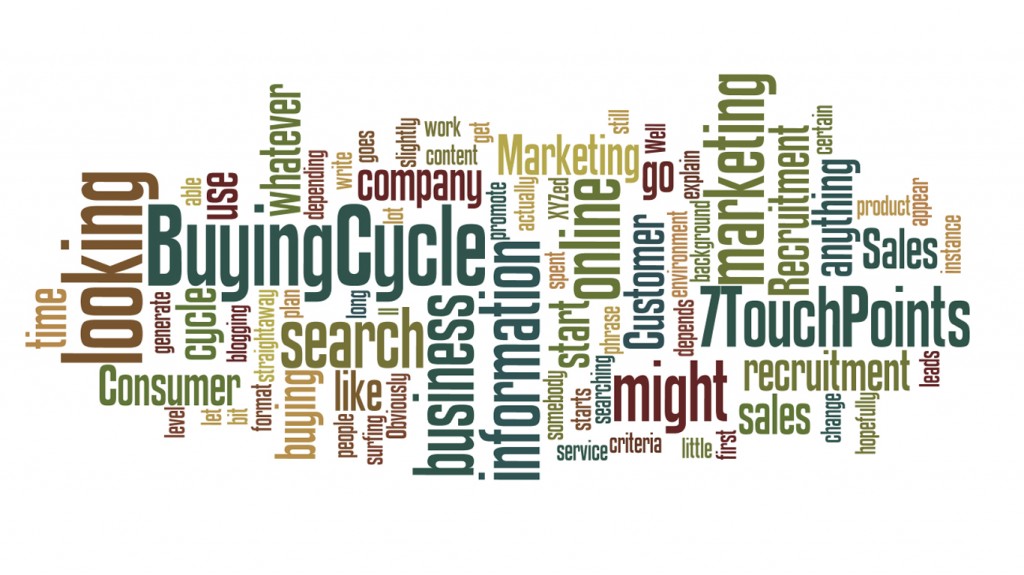 So let's explain a little bit more. So how does that actually work? Well, when we go online and we start looking for a product or a service it depends where we are in the buying cycle. I have a long sales and marketing background and I spent a lot of time in the sales environment. Obviously I still do in our own business. But people go online and straightaway first of all they start looking for information on – How can I do this? How might I be able to whatever? What's the format for XYZed? And then as time goes on, their search criteria starts to change slightly depending on where they are in their buying cycle.
So for instance, somebody might be surfing online with a phrase like 'how to write a marketing plan to promote my recruitment company' or whatever and they'll get a certain level of search information or it might be – What is content marketing and how can I use it in my business? What is business blogging? How can I use that? So they could be looking for anything – How do I generate more leads into my recruitment company? So they could be looking for anything like that and searching and then hopefully as they search that information will appear for them.
Now as that need, that pain gets a little bit more intense and think "You know what, I really need to do something about this." Then you may find that people are on a different point in the buying cycle. So they then start to look for a marketing consultant or lead generation specialist or something like that because obviously they are moving more towards that. But that's where it all starts.
It all starts with somebody wanting an answer to a question and that is how the whole inbound marketing thing started. Because people go online looking for answers to questions and then a number of innovative people, the likes of Seth Godin said "Hey you know, this is all about reaching out to our audience and giving them great information that hopefully then will convince them that we might be the right service provider for them and that we can help them in that context."
So does content marketing work? Absolutely! Yes it does. A recent survey that I read on marketing professionals basely said that you know, 80%… I think it was 88% actually of all brands are investing in content marketing at some level and specifically the budget was around 25% of their total marketing spend will be on content marketing which compared to how it was maybe 3 or 4 years ago, is a huge leap up in the way that marketing budgets are being aligned and spent.
So does content marketing work? Yes it does. You know, have a look at some of the testimonials on our website, go and have a look at the places and you'll see some of the results that people get through doing various content marketing strategies. In fact, this week I was talking to one of our clients and we were looking at what was actually generated in her business. The increase in her business so far this year and towards the back end of last year and it was all around her blogging. And the articles that were now on her website that was really helping to engage people, it was getting people to really connect with her and it was resulting in clients through it. So yeah it absolutely works.
So what could you do as a recruitment business owner? You know you may think "Well, I don't know anything. Well, you might be surprised… I have no idea what I can talk about." Well, there are many things that you can talk about and that's going to be the subject of the next podcast that we'll do. So I though I'd split this up so it's not a huge thing that you can listen to it in two bites of the cherry. So next time I'm gonna talk about exactly how content marketing can work for you as a recruitment business owner and how you can get started really really quickly.
So this is Denise from Super Fast Recruitment with The Recruitment Marketing Podcast and I look forward to seeing you next time.
Tweetables:
Click To Tweet: [inlinetweet prefix="null" tweeter="null" suffix="null"]What is content marketing?[/inlinetweet]
Click To Tweet: [inlinetweet prefix="null" tweeter="null" suffix="null"]Content marketing then is basically any marketing format that involves the creation and sharing of content, knowledge, information, media to acquire new customers. – Denise Oyston[/inlinetweet]
This podcast was hosted by Denise Oyston. Visit our Google +Page!
Important
As an ambitious recruitment organisation, THE marketing strategy to master is email marketing. It will consistently deliver both candidates and clients.
In a special complimentary training Webinar,  we give you the template for writing emails we use for our clients and the exact 4 campaigns that are working now.
You can register here.