Last week I shared the Ansoff matrix as a way to focus on the marketing side of your recruitment business, because it might just be the missing part that you have not considered.
June is a funny time of year and generally very busy for us. It's at this time that business owners start to look at 'lead' flow into their agency. For you this might be how many clients are contacting you that have a role to fill or how many high calibre candidates are accepting your call because they know who you are.
It can be tempting to jump around if 'things' are not going exactly to plan. We have seen many companies consider adding a niche or even creating a new product or service to add revenue. All great ideas when the time is right. Better to look at the possible revenue all around you that is much easier to convert. Going back to Ansoff and that top left square. Exactly where are you when it comes to connecting with your recruitment market and making them an 'offer'?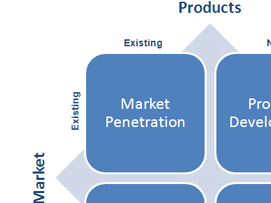 Here are some practical and basic strategies that work every time. Now before you think," I know all that!" Stop. Is it happening in your business now? More importantly is it a consistent focus?
Remember you might not see immediate results; this is a marketing process and it will bring results if you take action. In an ideal world these suggested activities would be happening on a regular and consistent basis which results in momentum being built and as a consequence predictable results.
Some recruiters really don't know where to start and if that is you, pick just one of these ideas and get going.
1. Contact Past Clients And Candidates
Everyone has them. The majority of companies we speak to also have a system that can segment and sort into categories. There is so much data out there that confirms that past clients and candidates are most likely to convert. Have you ever had that experience when you call someone and they say, "Glad you rang I was going to call you."? It happens.
Remember we all get busy and forget about people we have worked with in the past. It is not personal if they don't call you.  It is your job to keep in contact with them. Ideally as you plan your marketing moving forward (hint) set this up as a process. Use email newsletters, your LinkedIn or Twitter feed to always be front of mind for them. Have a plan mapped out where you allocate x hours a week to contact past clients and candidates by phone. There is called, keep in touch marketing. When you call them build the relationship.
Use your rapport and influencing skills and have a chat if that is the style of the individual. Don't just put the phone down when you pick up that they are not ready to act now. They will be, eventually.
Everyone thinks that this is the new way of marketing! It's not. It is a basic human premise that we like to know people before we engage with them. Persistence pays off and regular professional and interested interactions win the day.
2. Identify Your Dream List Of Clients And Candidates
If you could have it anyway what companies or candidates would you want to be working with who you know you could make a difference to? That is your starter so make your list and then get going.
Clients
You will probably know a lot of the key players in your field? If you don't get onto Google and do some research. Go down to page 3 at least. Find them on LinkedIn and connect with them. Then plan out a campaign so you are in contact on a regular and consistent basis. There is a ton of stuff you can do to profile your company…
1. Send them a useful article
2. Be active on LinkedIn and demonstrate your expertise (clients have no idea how knowledgeable recruiters are!)
3. Send them a direct mail shot and hand write the envelope
4. Send them something else in the form of 'lumpy mail' i.e. a CD, pen, coaster
5. Pick up the phone and talk to them and ask to meet
Candidates
First make sure you website is setup to attract high calibre candidates. The content needs to speak to them so they have an experience of you that demonstrates you are the company they should work with. Hint: It is not just about how good you are and how many years you have been going. We covered this in detail on a Webinar we ran earlier this year. You can access it here. Click here for the webinar.

Then get on LinkedIn and start hanging out where your candidates are. Identify key companies where they might be currently employed. The search functions on LinkedIn will help you with this and Inmail is a must have.
Take action on these two ideas and do it consistently and I guarantee you will NEVER be short of clients or candidates. This really is recruitment marketing lead generation 101.
Tweetables:
Click To Tweet: [inlinetweet prefix="null" tweeter="null" suffix="null"]What are your lead generation strategies?[/inlinetweet]
Click To Tweet: [inlinetweet prefix="null" tweeter="null" suffix="null"]Make sure you website is setup to attract high calibre candidates. – Super Fast recruitment[/inlinetweet]
Follow us on Google+!
Important
As an ambitious recruitment organisation, THE marketing strategy to master is email marketing. It will consistently deliver both candidates and clients.
In a special complimentary training Webinar,  we give you the template for writing emails we use for our clients and the exact 4 campaigns that are working now.
You can register here.